Well-known as the Pearl of Atlantic, Madeira Island is one of the most popular holiday destinations in Europe. Since it has a year round warm climate, tourists can plan for a trip to Madeira anytime of the year. Some of the activities that you can enjoy during your holiday are play golf, go fishing, hiking, surfing, dolphin spotting, sunbathing, and more. Excellent surfing destinations are located in Madeira, thus attracting huge number of surfing lovers. You can spend at least a week to discover the unseen spots of Madeira and its neighboring cities and the best way to do that is by car.
Why Should You Rent A Car In Madeira?
An easy and convenient way to explore the hidden gems of Madeira is by renting a car. Car rental in Madeira will give you the freedom to visit unexplored areas and make as many scenic stops as you wish. You can use buses too, which cover different parts of the island. However, buses leave on a fixed time and from fixed bus stops, so you will have to plan your itinerary as per their schedule and routes.
If you do not wish to rely on public transport and would like to make several stoppages in between your travel then you should rent a car in Madeira. All major car rental companies offer their services in Madeira. The easiest way to select the cheapest, safest, and best car rental service in Madeira is by making use of our website. You can book your favorite vehicle by checking and comparing prices, taxes, and accessories with a few clicks through our website.
Tips For Renting a Car
Parking: Madeira is a hilly area, so it is advisable to avoid hiring small cars. Also, you may face parking issues at some well-known touristy areas. So, a car with high torque and which is not too long, would be the best choice for traveling in hilly areas at a steady speed.
Fuel: Depending on your preferences for fuel and type of car, you can choose among unleaded petrol, diesel, LPG, or electric car. However, before renting a car, ensure that you check in advance about the fuel stations and electric charging points for the areas that you are going to visit.
Manual or Automatic: You can either select a manual car or an automatic one; as per your preferences and budget. Most of the cars in Portugal have manual transmissions. However, through our website you will be able to check options that have automatic cars in their fleet.
Renting a Van in Madeira: If your itinerary has trips to various unexplored and remote areas then renting a camper van wherein you can sleep would be the best choice. There are some van rental companies that have the authorization to park the van anywhere. So, you can gain complete information regarding campervans through our website and travel to Madeira easily.
Leading Car Rental Companies in Madeira
Europcar
Hertz
Alamo
Avis
How To Choose The Best Car Rental Company?
Selecting the best company for your trip will not be an easy task. Since there are too many car rentals available, it is advisable to compare their pricing, taxes, and roadside assistance through our website and then pick the right vehicle for yourself. Always check out the cancellation fees before booking a car. Most of the reputed car rental companies offer free cancellation. You will be able to check all these details easily through our website. In short, Auto Jardim Madeira will help you to get the cheapest price with several perks.
Is It Worth Renting A Car In Madeira?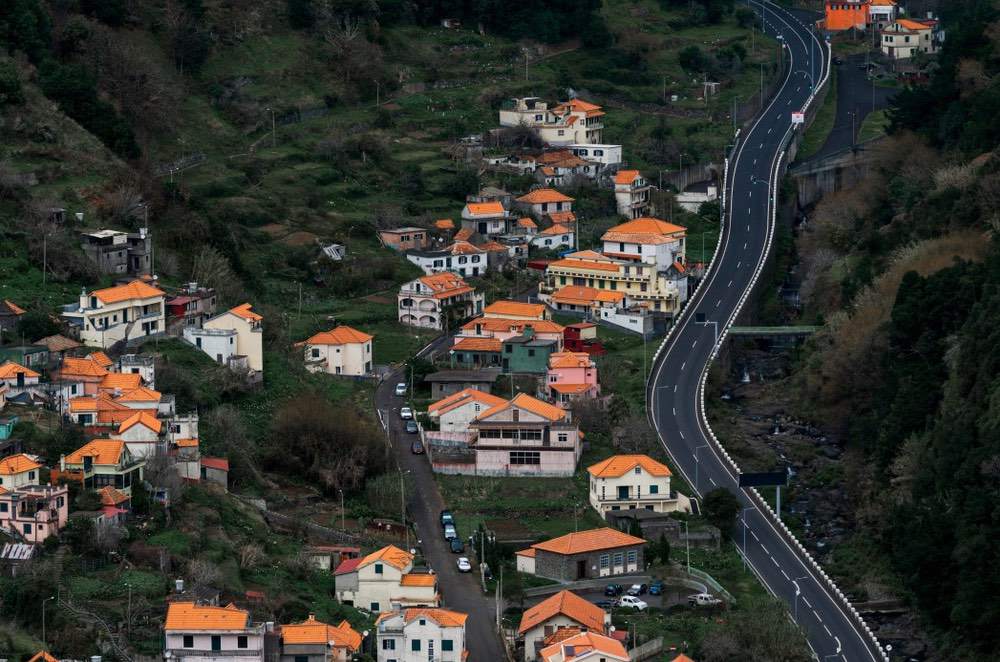 Absolutely! As soon as you arrive at Madeira airport, you will realize how important it is to go for car rental at Madeira airport for conveyance. You can obviously use a bus, or taxi, but both of them are inconvenient. Buses might make you wait until it is full and taxis are extremely overpriced. Also, both will charge extra for every piece of luggage that you are carrying. By hiring a car you will be able to explore and enjoy Madeira at your convenience and pace.
Factors To Keep In Mind While Getting A Car Hire in Madeira
Depending on the car company's rental policy, you should be more than 21 or 25 years old.
You should have a valid driving license for more than one year.
A personal photo identity card for EU citizens and a valid passport for other nationalities have to be shown as an identification proof.
Driving Around In Madeira
Download a map beforehand so that you can drive to remote areas of Madeira effortlessly. If you need a driver then hire them at the time of renting a car as that will be economical. Children under the age of 12 will require a booster seat, so ensure that your car supports a child seat. Traffic drives on the right side of the road and all occupants need to wear seat belts all the time. Drink and drive cases will not only be fined but can get your license suspended for about a year, so do not drive if your blood alcohol limit is 50mg per 100ml of blood. By any chance, if you are fined for breaking any rules then you must pay immediately or within 48 hours in Euros.
Important Documents To Carry While Driving In Madeira
Personal photo ID
Car insurance papers
Valid international driving license
Vehicle registration papers
Places That Should Not Be Missed During Your Visit:
Funchal
Funchal is the capital of Madeira, which is popular for its historical sites, blooming gardens, bustling food markets, beautiful museums, and huge cathedrals. By choosing Funchal car hire, you will be able to enjoy the beautiful city at your pace.
Ponta do Sol
If you want to view beautiful sunsets on the island then you should visit the Ponta do Sol. Wonderful pebble beach with rows of pastel buildings is the highlight of the area.
Curral Das Freiras
Locally known as "Pen of the Nuns;" Curral Das Freiras is a beautiful small village that is surrounded with high mountains. Travelers visit the place for exploring the village life and spending time in a peaceful and calm area.
Pico Ruivo
Being the third highest peak in Portugal and the highest peak in Madeira, Pico Ruivo should be added to your itinerary. If you enjoy hiking then it is the best place to click mesmerizing pictures of the island.
Madeira travel tips
Where to get traditional Portuguese products?
There are several shops that sell traditional Portuguese products. You can find them in the streets of older neighborhoods of cities and towns. These shops are generally open from Monday to Friday. Timings can vary a bit from 10am to 7pm. These roadside shops are sometimes open on some of the Saturdays and Sundays for Christmas and Thanksgiving shopping.
In case of emergency, which number to contact?
112 is the European Emergency telephone number that you can contact in case of emergencies. The number is available throughout the European Union and the call can be placed free of cost. You can call on the number through any fixed or mobile telephone, which will be answered immediately by the emergency personnel.
Where To Stay In Madeira?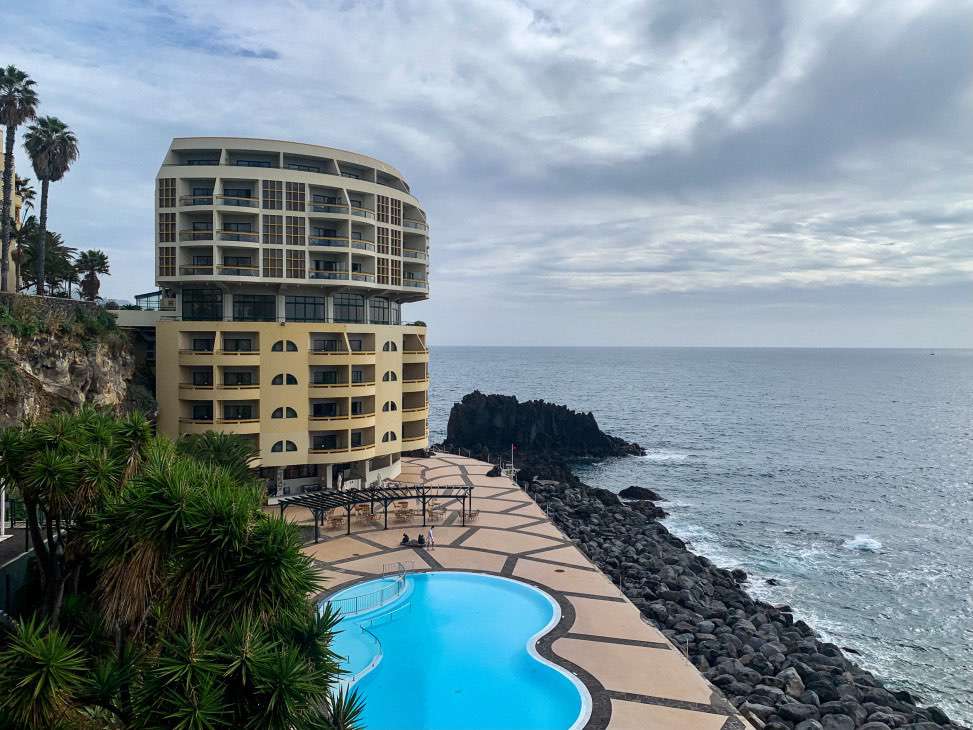 Pestana Churchill Bay
If your flight will land in Cristiano Ronaldo Madeira International Airport, then Pestana Churchill Bay would be a perfect 4-star hotel for your stay as it is close by to the airport. Located in Câmara de Lobos, Pestana Churchill Bay offers mesmerizing views of the city. Whether you choose Double Room, Twin Room, or Superior Deluxe Room, you will receive a complimentary buffet breakfast so that you can relish local dishes as well as vegan meals. Their neat and clean air-conditioned rooms will ensure that your holiday is a memorable one.
Saccharum – Resort & Spa – Savoy Signature
If you want to begin your day by walking on the beach then you should book a room at Saccharum – Resort & Spa. Located on Calheta Beach, Saccharum – Resort & Spa – Savoy Signature is a beautiful and luxurious 5-star hotel. The resort consists of various different types of rooms like Sea View Room, One-Bedroom Suite with / without sea view, Family Suite with sea view, Superior Room with Premium Services, and more. So, depending on your choices and budget, you can book the room of your preference.
Hotel Apartamento Cais da Oliveira
Hotel Apartamento Cais da Oliveira is a lavish 4-star hotel that is located 10 minutes away from Funchal. It offers private access to the beach and is very close to Santo da Serra Golf Course. The nearest beach from the hotel is 400 meters away and the closest airport is 10 minutes away by car. Subject to availability, you can park your rented car onsite or on the streets that offer parking facilities.