If you are looking for a peaceful and calm holiday experience on the south coast of Portugal, then Tavira should be on your itinerary. Tavira is a beautiful Portuguese town, which is famous for its sandy beaches, innumerable churches, and hilltop castle, and all of these hidden gems can be easily traveled by the help of car hire Tavira.
The months of July and August are extremely hot with the temperatures soaring between 25 – 30 degrees Celsius, so during that time, all tourists head to the beaches. May, June, September, and October have pleasant climate throughout the day, so you can plan your holiday for these months. Moreover, spring and autumn are the best seasons for viewing beautiful exotic migrating birds at Ria Formosa Natural Park. The park is about 20kms away from Tavira and the most convenient way to reach there is by renting a vehicle.
How To Choose The Best Car Hire Tavira?
Selecting an appropriate vehicle for your holiday is of utmost importance. Before hiring, you need to research well on various car rental companies regarding fuel efficiency, features, pricing, hidden costs, and condition of the car.
The solution
Booking a car in Tavira through our Auto Jardim website will let you save a lot of time and money because our website provides a wide range of options of cars that are offered by numerous car rental companies. You can get the best car hire Tavira deal as our website allows you to filter results by type of cars, prices, car features, capacity, locations, and much more. A comfortable car will ensure that your vacation is a memorable and pleasant one.
Famous Car Rental Companies In Tavira
Economy Car Rentals.

Rental Cars.

Car Flexi.

Rent A Star.

Sixt.
Top Tips To Rent A Car Tavira
Right-Hand Driving
Driving is on the right and you may come across narrow cobbled streets, so you need to drive carefully. However, the main advantage of renting a car is that it will let you add many more secluded beaches and remote areas to your itinerary.
Tolls in Tavira
If you are passing through tolls then it is better to have some spare Euros in cash ready for a smooth and quick passage. Else you can opt for Via Verde, which is a prepaid card that is assigned to the vehicle license plate. It will let you drive through the tolls instantly as your car will be automatically scanned and charged.
Driving License
If you are a citizen of the US with a valid driving license then you will not require an International Driver's License as you can drive here for up to 185 days. However, if you want to drive with a non-EU country license then you will require an International Driving Permit.
Traveling Around Tavira
There are two local bus routes that connect Tavira with nearby areas; but, they do not provide services on Saturday afternoons and Sundays. So, you will have to depend on some other mode of transport during weekends. The nearest airport to Tavira is Faro, which is about 31 km away. You can consider taking a train after landing at Faro airport to your hotel. However, you will have to walk a bit with your belongings as the Tavira train station is located on the outskirts of the town. The most appropriate option left is to hire a car that will be waiting at the airport so you can drive comfortably to your hotel. Car hire Tavira Portugal will also let you discover the unexplored areas of Tavira easily and at your convenience.
Popular Places To Visit In Tavira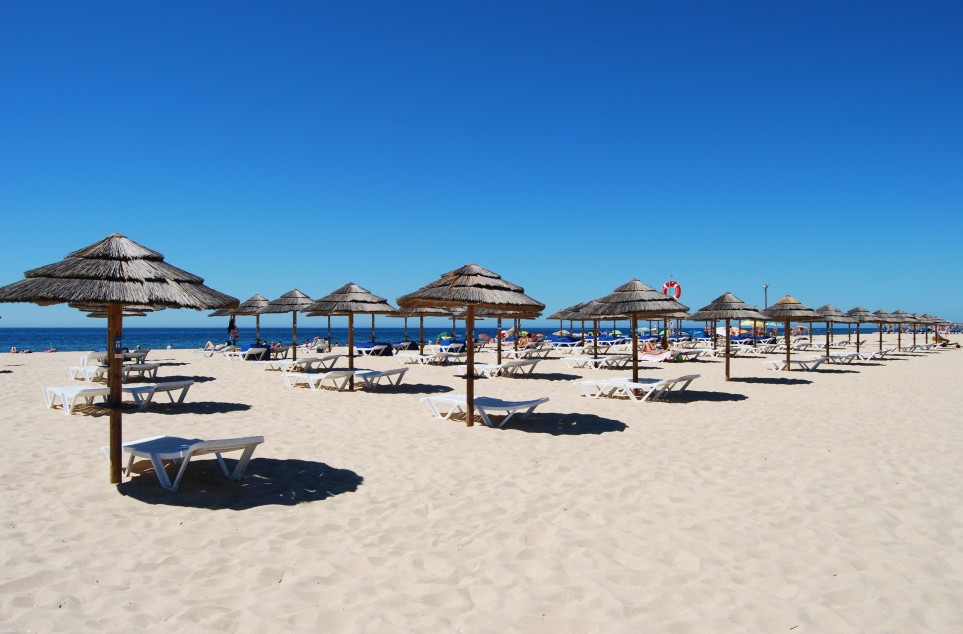 Tavira Island
It is a peaceful and untouched island with a breathtaking golden sandy beach. You can reach Tavira Island by booking a half an hour ferry ride from Central Tavira. It is the best place to relax on chair loungers or sunbeds with your family and enjoy the cool breeze or simply swim in the warm waters. You can even relish some authentic Portuguese cuisine and seafood at the nearby restaurants. Remember that the cool breeze can be deceptive and you might burn your skin so do not forget to apply sunscreen lotion.
Igreja da Misericórdia
Tavira has innumerable beautiful churches and among them, the Igreja da Misericórdia is the best one. It is interlinked with two other churches; Santiago and Santa Maria do Castelo and for a little extra fee; you can get a single pass to enter all three of them. These three churches are close by and are absolutely stunning. The blue and white tiled interiors highlight their intricate designs from the 18th century. You can click pictures inside the church to capture the Portuguese Renaissance in Tavira.
Igreja de Santa Maria do Castelo
The landmark of the city is this pretty clock tower premises. Several international photographers have captured the beauty of it in their cameras following the south river of the town. It is the biggest mosque in the Algarve, which was rebuilt after ages getting destructed by the earthquake in the 17th However, the main doors of the gothic style architecture survived the earthquake even the largest sides of the castle got destroyed during it.
Igreja da Misericórdia
The cultural highlight of the town is this Igreja da misericordia which is the finest example of the architecture in the Algarve. It was dating from the mid 16th century by the master mason Andre Pilarte. Well, it is a massive and impressive monument which you can consider visiting. It is distant from the remote location, so it is better for you to get the optimal car hire
The Riverfront
It is an unspoiled river that is pleasant to watch with your loved ones. It is enchanting to watch the riverfront at night and enjoy your time in Portugal city. Also here you can admittedly see the most rewarding sightseeing view as it is the center attraction of the city where you can see the majority of the tourists.
Ilha de Tavira and the Ria Formosa
The beautiful and unspoiled beaches are the center attraction of the city. It is the ideal place for you to have a calm and refreshing vibe allowing you to have a refreshing vacation. The sandy beach can make it all for the stress and anxiety that you have been for a while. It can allow you to have the peace of mind that you have been craving for a while.
Castelo
Portugal has some wonderful historical castles that were built in the majesty of Portuguese monarchs. One of those wonderful castles is this one; that is perches on the cobblestone knoll in the ancient Arab quarter for the town's Moorish castle. It was dating originally in the 13th century but in rebuilt in the 17th It is one of the top tourist center attractions in the city. You can surely visit here and grab the history of the place. You can consider Tavira car rental to visit the castle.