If you have Algarve in your Portugal bucket list then you should include Alvor too as it is a beautiful town with Portuguese styled architecture and calm beaches that can easily be reached with Alvor car hire.
The most apposite way to discover the hidden gems of Alvor is by hiring a vehicle in Alvor as it will make your holiday a terrific one as you can visit the innumerable scenic spots and beaches at your convenience.
How To Hire A Car In Alvor?
There are two ways to hire a car online. You can check each car rental company website to evaluate them by opening a dozen tabs. Alternatively, you can visit our website and compare all features on a single page. For obvious reasons, the latter is the best solution as it will save time and energy. Our Auto Jardim website will let you evaluate costs and discounts that are offered by various car rental providers so that you can pick the best car rental deal in Alvor.
Additionally, you can even read honest customer reviews on our website. Some more benefits of using Auto Jardim website is that you can check-in online so that your car awaits for you at your preferred destination. Moreover, you can collect and deliver the car in a city of your choice. We have innumerable years of experience in the online Alvor car hire market. So, are you ready to make your Alvor road trip an unforgettable one?
Famous Car Rental Companies In Alvor
– Zest Car Rentals.
– Rent a Car.
– Imperial Car Rental.
– Europcar.
– Car Fexi.
Top Tips To Rent A Car In Alvor
Vital Documents
You will require a valid driving license and a credit card in the same name at the time of picking up the vehicle. In case you have already paid online, make sure to carry the payment details else keep the amount ready to be paid at the counter.
Young Drivers
The legal driving age in Portugal is 18 years. However, most of the car rental companies prefer offering their cars to drivers above the age of 25. If you are younger than 25 then you need to search a little more to find a car rental company that is ready to provide a car to you. Also, be prepared to pay extra charges for this facility.
Car Condition
At the time of pickup, your car rental company will provide a report on the condition of the car. However, you should always click several pictures of the car before leaving so that you are already aware of the scratches or dents that are on the vehicle.
Traveling Around Alvor
You can use Vai e Vem bus services to travel in and around Alvor. Although they are inexpensive, they run every 30 minutes so it gets a little time-consuming. Moreover, on weekends their services are slower as most of the buses do not ply on Saturdays and Sundays. If you are planning to travel by train then keep in mind that Alvor does not have a train station. The nearest train station is Portimao, which is about 6.5 km away.
Instead of using the local transportation, it is advisable to rent a car and make your conveyance quicker and easier. Car hire Alvor will let you visit the nearby areas of Alvor without any difficulties. You can plan your trip as per your timings and convenience. No more waiting for local buses or hiring expensive cabs! Just hop into your Alvor car hire and make your vacation an enjoyable one.
Popular Places To Visit In Alvor and The Best Time To Do I

t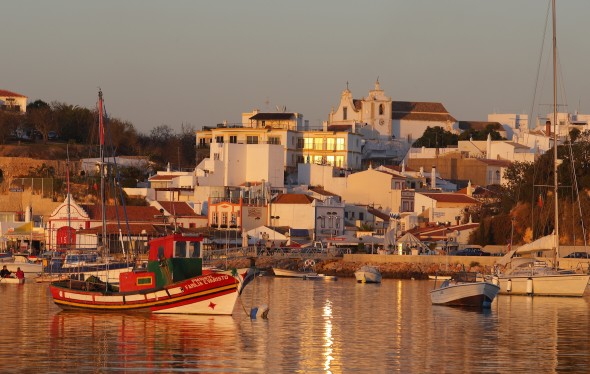 Spring (May-June) and Autumn (September-October) are the best months to travel as the temperature is pleasant to visit nearby areas during the day. If you want to explore Alvor and its neighborhood then it is advisable to avoid traveling in summers as the temperature soars above 30 degrees Celsius.
Praia de Alvor
A former fishing village, Praia de Alvor is at present one of the most visited beaches in Alvor. Numerous restaurants and bars have transformed this huge sandy beach into a lively tourist destination. The clean blue waters are perfect for a swim during summers. Behind the beach there is a 3 km long boardwalk that will take you through the Ria de Alvor Nature Reserve.
Ria de Alvor Nature Reserve
If you are a nature lover and enjoy bird-watching then you should add Ria de Alvor Nature Reserve to your itinerary. Plan your holiday in spring and autumn to view innumerable migrating birds especially Flamingos, Stork, and Herons. Don't forget to carry your camera to click amazing pictures of beautiful birds and clear waters. You can even consider clicking breathtaking views from the cliffs up above.
Alvor Boardwalk
In the Alvor Boardwalk pathway, the expansion of the beach gives a great view for the first-time visitor of this place. You can find true nature and wildlife to enjoy this place. You can feel the refreshing sea breeze. The thing to keep in mind, the water level is quite deep at such a part of the beach, and it is fast also.
Igreja Matriz de Alvor
Visiting some of the old churches is a great time experience, and you can find so many churches in the town of Alvor. If you love to visit vintage churches which are made in the old days, then you can try out Igreja Matriz de Alvor. This place is very beautiful, and you can drive on the car to the beautiful roads.
Fishing
Alvor is known for fishing history, and there are so many places where you can love fishing. You can try out beaches for beauty and if you want to relax with family then catching fish is a great time experience in all the time. Apart from it, you can easily find that an abundance of fish is a great activity to do.
Costa Vicentina
Within the easy reach at couple miles, you can drive to Costa Vicentina. Impressive cliffs and long empty unruined beaches are a major attraction here. You can prefer any of the cars to drive. Spending some time alone with family is surely the best thing to do here, and you will love to try out this place.
Food specialties
Alvor is famous for its authentic Portuguese cuisine. Some of the dishes that you should not miss are Franago da Guia (spicy chicken), Sardines, shrimps, and Tarte de Alfarroba (almond cake) among others. In short, the cuisine of Alvor has something for everyone.