Explore the majestic Mediterranean island of Malta at your own pace and convenience by choosing a car hire in Malta. From stunning coastlines to historical treasures, make your Malta journey memorable with this ultimate guide to cheap car rental in 2023.
Why Opt For a Car Hire in Malta?
Opting for a car hire in Malta offers several advantages:
Flexibility: Chart your itinerary and make impromptu stops as you please.
Accessibility: Reach remote locations and hidden gems that public transportation may not cover.
Economical: Over a longer trip, renting a car can be more cost-effective than depending on taxis or organized tours.
Choosing the Right Car Hire in Malta
When selecting a car hire in Malta, remember:
Car Type: Compact cars are ideal for Malta's narrow streets, but an SUV might be better if you plan to visit rural areas.
Rental Policies: Understand the fuel policy, mileage limit, and return policy before you book.
Additional Services: Consider add-ons like GPS, child seats, or additional insurance when comparing prices.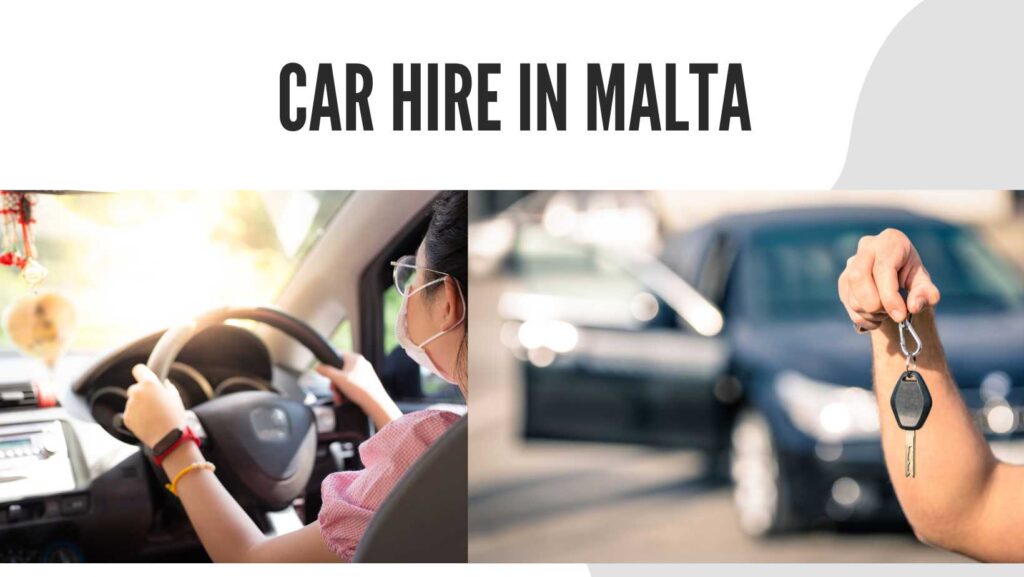 Best Car Hire Companies in Malta
Malta has a number of reputable car hire companies including:
Avis Malta: Known for a large fleet and excellent customer service.
Hertz Malta: Offers competitive rates and wide-ranging vehicle selection.
Europcar Malta: Provides a comprehensive range of cars and added services.
Tips to Secure a Cheap Car Hire in Malta
To secure a cheap car hire in Malta, follow these tips:
Book in Advance: Pre-book your car hire to secure the best rates.
Compare Prices: Use online comparison tools to evaluate prices from different car hire companies.
Understand Your Insurance: Make sure you understand what your insurance covers to avoid unexpected charges.
Navigating the Roads in Malta
Driving in Malta comes with its unique aspects. The small island nation has a high number of cars, leading to inevitable traffic congestion during peak hours, especially in Valletta, the capital city. Always yield to public transport vehicles, including school buses, as they have the right of way. Roundabouts are common across the island, so approach them with caution.
Parking in Malta
Parking your rental car in Malta can be challenging due to the sheer volume of cars and limited parking spaces. Strict regulations are in place against illegal parking, and cars can be clamped or towed for serious violations. To avoid time parking zones, opt for public car parks, which are generally free of charge and attended.
Exploring Gozo
Venture beyond the main island and explore Gozo, located off the northern coast of Malta. Ferries are available to transport your rental vehicle. Despite its small size, Gozo offers a variety of activities, making it an excellent spot for an extended visit or a refreshing break from driving.
Scenic Route 1
Experience Malta's beauty by driving along Route 1, which stretches from Birzebbuga near the Malta Seaport in the south to Cirkewwa in the north. Along the way, you'll pass Malta International Airport, the University of Malta, and the scenic eastern coast up through Bugibba and Mellieha. The trip takes roughly an hour each way, traffic permitting.
Saving Money on Car Hire in Malta
About 25% of our users found car hire in Malta for $13 or less. To secure a below-average price, it's recommended to book your rental car at least 1 day before your trip. Note that off-airport rental car locations in Malta are approximately 45% more expensive than airport locations. Consider hiring an economy car in Malta as they are about 10% cheaper than other car types, on average.
Frequently Asked Questions
What are the benefits of opting for a car hire in Malta?
Choosing a car hire in Malta provides flexibility, accessibility to off-the-beaten-track locations, and potentially more cost-effectiveness over the course of a longer trip.
What should I consider when choosing a car hire in Malta?
When choosing a car hire in Malta, consider the type of vehicle that will best suit your needs, the rental company's policies, and any additional services or add-ons that you might require.
Who are some reputable car hire companies in Malta?
Some of the top car hire companies in Malta include Avis Malta, Hertz Malta, and Europcar Malta. They are known for their large fleets, competitive rates, and excellent customer service.
How can I secure a cheap car hire in Malta?
To secure a cheap car hire in Malta, consider booking well in advance, use online comparison tools to compare prices across different companies, and ensure that you understand what your rental and insurance covers to avoid any unexpected costs.
Is it easy to drive around Malta?
Yes, Malta's road network is extensive and well-maintained, making it relatively easy to drive around. However, some of the country's rural areas and older city streets can be narrow and winding, so a compact car is often a good choice. Always familiarize yourself with local driving laws before setting off.
Conclusion
Opting for a car hire in Malta lets you discover the island's beautiful landscapes and historic sites at your own convenience. From understanding how to select the right car hire to ensuring you get the most value for your money, this guide will help you navigate car rental in Malta in 2023. Safe travels!