More About Europcar Car Hire in Madeira
Located in the heart of the Atlantic Ocean, the island of Madeira is a haven for explorers and beach enthusiasts alike. Europcar, a leading car hire service, provides visitors with a practical way to explore this picturesque island. With its wide range of vehicles, outstanding customer service, affordable pricing, and flexible working hours, Europcar is a top choice for those looking for cheap car rentals in Madeira.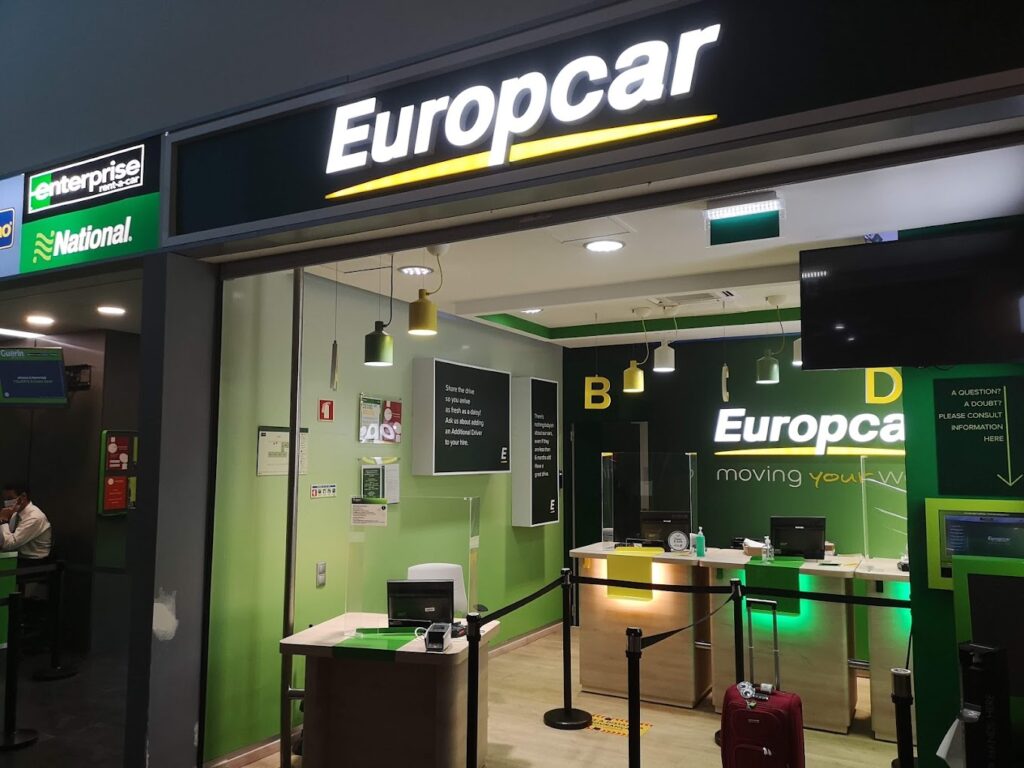 Location
Europcar's Madeira services are conveniently located at Madeira Airport (FNC), which is a mere 13.2 km from the capital city of Funchal. This provides seamless access to a car upon arrival, reducing the hassle of arranging separate transportation to a rental office.
Fleet of Vehicles
Europcar offers a diverse range of vehicles catering to the varied needs of its customers. Whether you're looking for compact cars for city driving, spacious family cars, or even premium vehicles for a bit of luxury, Europcar has you covered. They also offer eco-friendly vehicles for those conscious about their carbon footprint.
Customer Service
Europcar in Madeira is renowned for its excellent customer service. The friendly and multilingual staff are always ready to assist, making the car hire process as smooth and easy as possible. They also provide valuable tips and guidance on navigating the island.
Pricing
Europcar offers competitive pricing, with options to suit a range of budgets. You can even save on costs with their special deals and discounts. Long-term rentals are also available for those staying on the island for an extended period.
Working Hours
Europcar's working hours in Madeira are designed to accommodate a variety of travel schedules. The service counter at Madeira Airport operates from 7:00 am to midnight, seven days a week, ensuring you can pick up or drop off your rental at a time that suits you best.
While Europcar provides a fantastic car hire service in Madeira, there are also other excellent alternatives worth considering, such as Avis in Madeira, Hertz in Madeira, and Sixt in Madeira. Each of these companies offers a range of vehicles and services, and can provide a great experience for your trip to Madeira.
Europcar's car rental services are conveniently located at Madeira International Airport
Their service desk is situated on the ground floor of the terminal, near the security area, and operates daily from 7.00 am to midnight. Reservations and inquiries can be made over the phone at +351 291 524 633, or online using the form provided.
Once you have your rental vehicle, you might consider a trip to the famous São Vicente Caves. Located in the municipality of São Vicente and discovered in 1885, these ancient volcanic caves are a sight to behold. Open from 10.00 am to 6.00 pm daily, these caves stretch approximately 1 kilometer into the island's interior. The guided tour takes about 30 minutes and provides insight into Madeira's volcanic history.
Getting there is straightforward with your Europcar rental. If you're starting from Funchal, take the motorway towards Ribeira Brava and follow the signs to São Vicente. From the Serra de Água exit, another sign will direct you towards São Vicente, leading you straight to the caves after a short tunnel and a roundabout.
Another must-see destination in Madeira is the PR5 Vereda das Funduras, an 8.7 km hiking route that begins at the Portela Lookout Point, located between Porto da Cruz and Machico. This moderately challenging trail offers breathtaking views of Madeira's northern coast and leads through parts of the world's largest surviving laurel forest, the Laurisilva Forest. The forest is home to unique Madeiran flora and fauna, including the Madeiran Laurel pigeon, the Mountain Orchid, and endemic tree species like the Madeira mahogany and bay tree.
This remarkable laurel forest, spanning 15,000 hectares within the 27,000 hectares Madeira Natural Park, is recognized as a Biogenetic Reserve by UNESCO. Established in 1982, the park offers signposted hiking trails as the ideal way to explore and enjoy the natural beauty of Madeira.
Frequently Asked Questions
What types of vehicles does Europcar offer for hire in Madeira?
Europcar offers a wide range of vehicles to suit various travel needs in Madeira. From compact cars ideal for solo travelers or couples, to spacious SUVs for family trips, and luxurious models for an elevated driving experience, Europcar has got you covered. The actual availability might vary, so it's recommended to check their website or contact their customer service for the most accurate information.
How does Europcar's pricing compare to other car hire services in Madeira?
Europcar is known for its competitive pricing structure that offers value for money. The actual cost can vary based on the type of vehicle chosen, duration of hire, and the season. While it is typically in line with other car hire services like Budget or Hertz, it is always advisable to compare rates and check for any ongoing promotions or discounts.
What are Europcar's working hours in Madeira?
Europcar typically operates from early morning until late evening. However, the working hours can vary based on the location and the day of the week. It is recommended to check the specific opening hours for the Europcar location you plan to visit in Madeira. Their customer service is also available to assist with queries outside these hours.
Conclusion
In conclusion, if you're planning a trip to Madeira and are in need of a reliable and affordable car rental service, Europcar is a choice worth considering. Their wide range of vehicles, excellent customer service, and flexible working hours make them a standout choice for car hire in Madeira.