More About Goldcar Car Hire in Madeira
Discover the beautiful island of Madeira with Goldcar Car Hire. Located in the heart of the Atlantic Ocean, Madeira is known for its stunning landscapes, vibrant culture, and warm hospitality. Goldcar offers a wide range of vehicles, excellent customer service, and competitive pricing to make your Madeira experience unforgettable.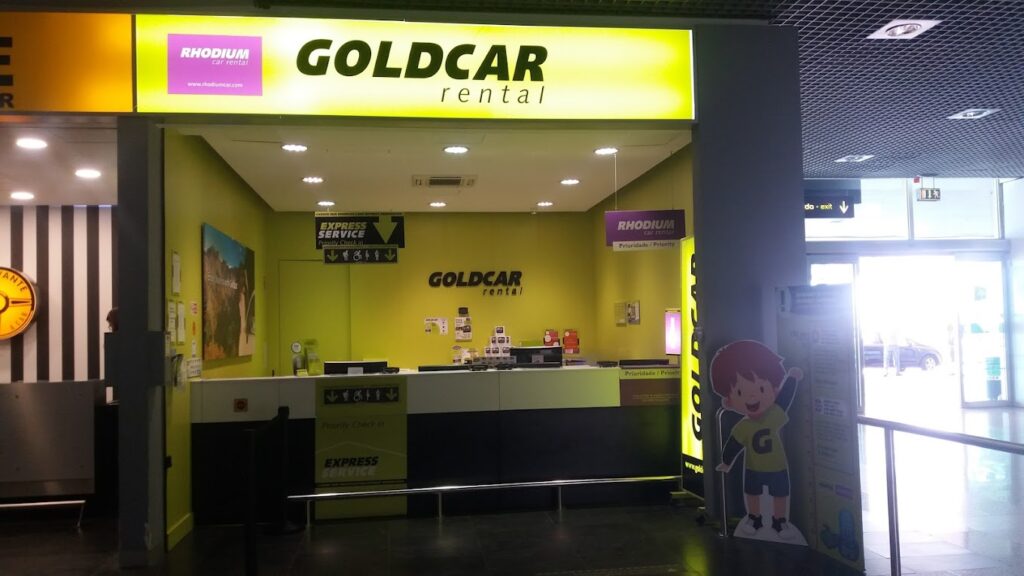 Location
Goldcar Car Hire is conveniently located at Madeira's Cristiano Ronaldo International Airport, allowing you to pick up your rental car as soon as you arrive on the island. This prime location ensures a hassle-free start to your Madeira adventure.
Vehicles
Whether you're traveling solo, with family, or with friends, Goldcar has a diverse fleet of vehicles to suit your needs. Choose from compact cars for city driving, family-friendly sedans, or spacious SUVs for exploring Madeira's breathtaking landscapes. If you're looking for a more luxurious experience, Goldcar also offers premium vehicles and convertibles.
Customer Service
Goldcar is committed to providing exceptional customer service throughout your car rental experience. The friendly staff are always available to assist with your booking, answer any questions, and provide recommendations for your stay in Madeira. With a strong reputation for reliability and customer satisfaction, Goldcar is a top choice for car hire in Madeira.
Pricing
Goldcar offers competitive pricing for their car rentals, ensuring you receive the best value for your money. You can find special promotions and discounts on their website or by subscribing to their newsletter. To further enhance your savings, consider booking your rental car in advance and comparing prices with other car rental companies in Madeira.
Working Hours
Goldcar's working hours are designed to accommodate your travel schedule. The Madeira branch is open daily from 7:00 AM to 11:00 PM, ensuring you can pick up and drop off your rental car at your convenience.
Why choose Goldcar Car Hire at Madeira Funchal Airport for your holiday?
Exceptional Offers and Discounts
As one of the top holiday car rental companies, Goldcar Car Hire provides attractive seasonal offers and discounts in Madeira Funchal, ensuring an affordable and enjoyable experience for every customer.
Mega Relax Cover
Goldcar's comprehensive Mega Relax cover includes premium roadside assistance, an additional driver, internet access, satellite navigation, and options for drivers under the age of 24, providing peace of mind during your trip.
Modern and Expansive Fleet
With over 60,000 vehicles in circulation, Goldcar Car Hire boasts a new and modern fleet of Madeira Funchal rental cars, ensuring you'll find the perfect vehicle for your needs.
Guaranteed Availability
When you book with Goldcar, you can be confident that availability issues won't impact your holiday plans, thanks to their extensive fleet and efficient reservation system.
Express Pick-up and Convenient Services
Goldcar offers an express pick-up service at their rental desk, along with convenient automatic services like Key'n Go at select locations, streamlining your car rental process.
24/7 Roadside Assistance
For any issues during your rental period, Goldcar provides a telephone helpline for roadside assistance available 24 hours a day, seven days a week, ensuring prompt and reliable support whenever you need it.
Frequently Asked Questions
What types of vehicles does Goldcar Car Hire offer in Madeira?
Goldcar Car Hire in Madeira provides a wide range of vehicles for customers to choose from, including compact cars, sedans, SUVs, and luxury vehicles. Are there any special offers or discounts available for booking with Goldcar Car Hire?
What are the working hours and customer service options for Goldcar Car Hire in Madeira?
Goldcar Car Hire in Madeira operates during regular business hours, but specific opening and closing times may vary by location. Their customer service team can be contacted via phone, email, or online chat for assistance with bookings, inquiries, and any concerns that may arise during the rental process.
How do Goldcar Car Hire's prices compare to other car rental companies in Madeira, such as Budget?
Goldcar Car Hire offers competitive pricing on their vehicle rentals in Madeira, with a range of options to suit various budgets. However, prices may vary depending on factors such as the rental period, vehicle type, and availability. To ensure the best deal, it is recommended to compare prices with other car rental companies, such as Budget, before making a reservation.
Conclusion
Madeira is an enchanting island with plenty to offer, from charming towns and historic sites to rugged mountains and lush forests. With Goldcar Car Hire, you'll have the freedom to explore the island at your own pace. Don't forget to check out other car rental options in Madeira to find the perfect vehicle for your trip.