More About Goldcar Car Hire in Madeira
Experience Madeira like never before with Goldcar Car Hire, one of the leading car rental services in the region. Strategically located in Madeira's central hub, Goldcar offers a fantastic way to explore the beautiful island and its surroundings at your own pace.
Convenient Location
Goldcar Car Hire is conveniently located in the heart of Madeira, making it easily accessible for both locals and tourists alike. This central location provides the ideal starting point for your journey, whether you plan to cruise along the stunning coastline or navigate through Madeira's charming villages.
Diverse Vehicle Fleet
When it comes to vehicles, Goldcar offers a broad range of options that cater to diverse needs and budgets. Their fleet includes everything from compact cars for those who prefer easy maneuverability to spacious SUVs perfect for family outings or group travel. Looking for luxury? Goldcar has you covered with their selection of premium models.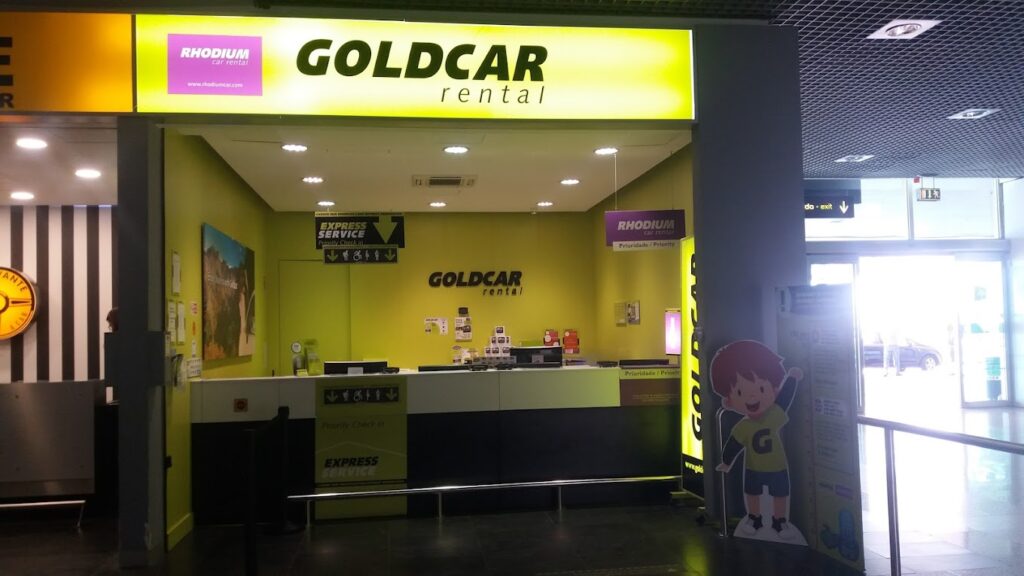 Exceptional Customer Service
Customer satisfaction is a top priority at Goldcar. Their dedicated team is available to assist with every aspect of your car rental experience, ensuring you enjoy a seamless and stress-free journey. From the moment you pick up your vehicle to when you return it, Goldcar's customer service team is committed to making your car hire experience as smooth as possible.
Affordable Pricing
Goldcar believes in offering quality service at an affordable price, making them a great choice for cheap car hire in Madeira. They provide transparent pricing with no hidden fees, so you can plan your travel budget without any surprises.
Flexible Working Hours
Goldcar operates with extended working hours, accommodating a variety of travel schedules. They understand that travel plans can vary, hence whether you need to pick up your vehicle early in the morning or return it late at night, Goldcar is ready to serve.
GOLDCAR Car Rental Services at Madeira Airport
Goldcar Car Hire, a prominent car rental service, is conveniently situated at Madeira International Airport, just adjacent to the security section in the arrivals hall. Customers can access Goldcar's services every day of the week, from the early hours of 7.00 am until midnight. For inquiries and reservations, the Goldcar service team can be reached at +351 211 451 595.
Choosing Goldcar for your car hire in Madeira opens up a host of possibilities to explore the magnificent island and its numerous attractions. Located close to Funchal, the island's capital, is the breathtaking Madeira Botanical Gardens. Initially part of the William Reid estate, the founder of Belmond Reid's Hotel, these beautiful parks are a must-visit. Covering about 8 hectares and home to some 3,000 species of plants, the gardens are a quick 3 km drive from Funchal's center via the ER102 road.
A little further, approximately 8 km from Funchal, lies the expansive Funchal Ecological Park. It is an adventurer's paradise with activities like all-terrain biking, canyoning, paragliding, bird-watching, and hiking. A notable trail in the park is the Poço da Neve hiking trail, which offers breathtaking views of the island's scenery.
Your journey with Goldcar doesn't stop there. In the northern coast of Madeira, Santana is home to the traditional Santana Houses. These peculiar, tall and narrow houses have a rich history, initially serving as dwellings for both humans and animals. The area can be reached via the V1 road from Porto da Cruz, northwest of Santana.
By opting for Goldcar car hire in Madeira, you can witness the rich heritage of the island firsthand, making your visit an unforgettable experience.
Frequently Asked Questions
Where is Goldcar Car Hire located in Madeira?
Goldcar Car Hire is centrally located in Madeira, providing easy accessibility for both tourists and locals. The specific address details can be obtained from their official website or through a direct inquiry.
What types of vehicles does Goldcar Car Hire offer?
Goldcar Car Hire boasts a diverse fleet of vehicles to cater to a variety of needs and budgets. Their range includes compact cars for easy maneuverability, spacious SUVs for group travel, and premium models for a touch of luxury.
Does Goldcar Car Hire provide customer support throughout the rental period?
Yes, Goldcar's dedicated team offers customer support from the moment you pick up your vehicle until you return it. Their goal is to ensure a seamless and stress-free car rental experience for all customers.
Conclusion
Traveling to other locations in Portugal? Check out other car rental options like Guerin Car Hire in Lisbon or Way2azores Rent in Madeira to ensure a smooth journey no matter where your travels take you.
Uncover the beauty of Madeira with the comfort and convenience of Goldcar Car Hire. Start your adventure today!