More About Guerin Car Hire in Lisbon
Travelling in Lisbon? Whether you're visiting for leisure or business, having a reliable set of wheels can significantly enhance your experience. For those seeking car rental services, Guerin Car Hire in Lisbon offers a top-notch fleet of vehicles and world-class service.
Location
Strategically positioned in the heart of Lisbon, Guerin Car Hire allows you to pick up your chosen vehicle conveniently. It is close to major transport hubs and some of Lisbon's most popular attractions, making your Lisbon experience more comfortable and hassle-free.
Fleet of Vehicles
At Guerin, you'll find a diverse range of vehicles, from economical compact cars that are perfect for navigating through city streets, to spacious SUVs for families or groups. If you're looking to travel in style, Guerin also offers a range of luxury vehicles for a comfortable and stylish journey. This extensive fleet allows you to find a vehicle that fits your preferences and budget perfectly.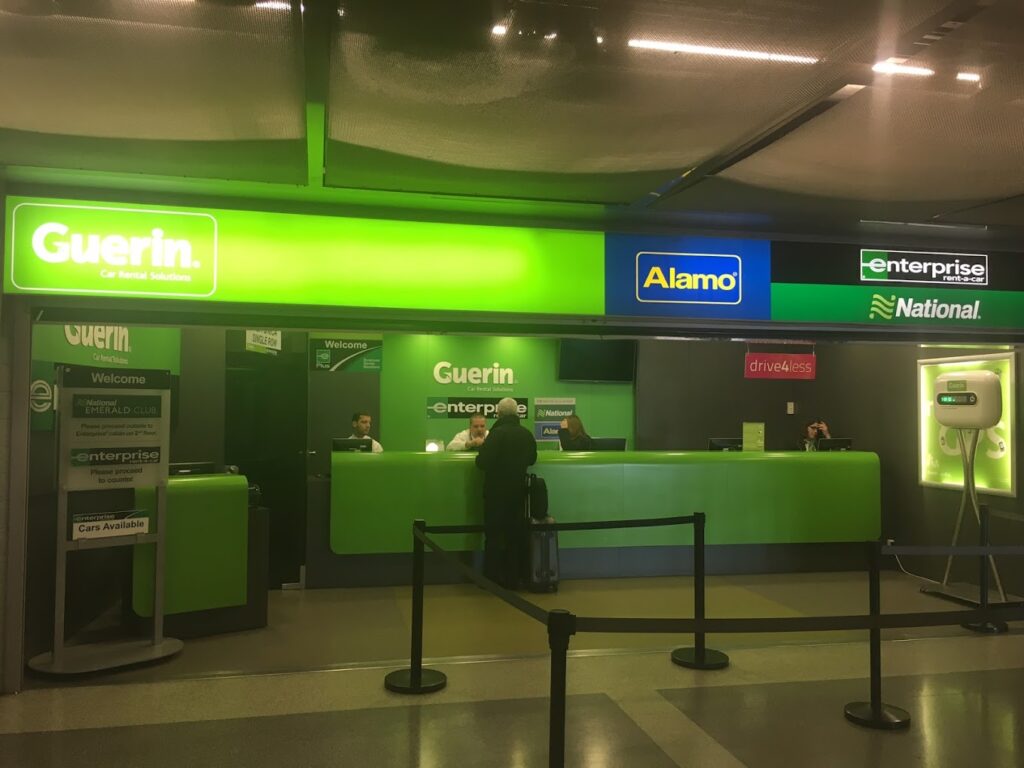 Customer Service
Known for its outstanding customer service, Guerin ensures your car hire process is smooth and pleasant. The staff at Guerin are knowledgeable and friendly, always ready to assist you with your car hire needs, whether it's navigating the booking process or providing local driving tips.
Pricing
When it comes to pricing, Guerin Car Hire offers competitive rates for cheap car hire without compromising on quality and service. There are options to suit every budget, making Guerin an excellent choice for both luxury and budget travellers.
Working Hours
Guerin Car Hire operates seven days a week, allowing flexibility for pick-ups and drop-offs according to your schedule. Early morning or late-night flights? No problem. Guerin's accommodating hours ensure your travel schedule remains on track.
Guerin Car Hire in Lisbon
Guerin Car Hire, a trusted name in the car rental industry, offers a wide range of vehicles for hire at Lisbon Airport. Renowned for its excellent customer service, Guerin can be reached via email at [email protected], over the phone on +351 289 800 883, or through their website www.guerin.pt. The car hire desk is open from 7.00 am to midnight daily, offering flexible service to fit your travel itinerary.
Alongside a plethora of car rental options at Lisbon Airport, Guerin stands out for its comprehensive fleet, personalized driving experience, and commitment to quality service. It's an ideal option for anyone looking for affordable and convenient car hire in Lisbon.
Lisbon, the vibrant capital of Portugal, is a gateway to many fascinating destinations. One such location is the historic city of Fátima, located in the Portuguese Centro region, a drive of approximately 76 miles or 123 kilometers from Lisbon. Home to the Sanctuary of Nossa Senhora de Fátima, the city attracts thousands of tourists and pilgrims each year.
With Guerin's car hire services, you can comfortably explore such tourist destinations at your own pace. Whether you're interested in visiting Fátima's renowned religious sites or the natural wonders of the Estremenho Limestone Massif, a vehicle from Guerin's diverse fleet will certainly cater to your needs.
Guerin offers a range of economical and compact cars, such as the Peugeot 106, Opel Corsa, VW Polo, and Renault Clio, all seating up to five passengers with enough boot space for one large suitcase. All these cars feature air conditioning and automatic transmission, making them ideal for short trips and touring Lisbon's picturesque coastline.
For larger groups or families needing extra luggage space, Guerin offers mid-size options like the Toyota Corolla, VW Golf, and Ford Focus. For those seeking luxury, the Audi A3 Diesel, Toyota Avensis Station Wagon, or the Peugeot 407 Station Wagon might be perfect choices.
If you're traveling in a larger group, Guerin also provides 7 to 9-seater vehicles like the VW Transporter and the VW Sharan, ensuring everyone in your group travels comfortably.
Established in Portugal in 1989, Guerin, a part of the Ibericar Company, offers a regularly updated fleet and a unique, personalized driving experience. Their commitment to service excellence makes them a top choice for car hire in Lisbon. Whether you're visiting for a brief holiday or a longer stay, Guerin's car hire service offers the perfect vehicle to make your visit more enjoyable.
Explore Lisbon and the surrounding region with a cheap car rental from Guerin, and enjoy the freedom of designing your own Portuguese adventure.
Frequently Asked Questions
Where is Guerin Car Hire located in Lisbon?
Guerin Car Hire is conveniently situated in the heart of Lisbon, making it accessible from major transport hubs and popular attractions.
What types of vehicles does Guerin Car Hire offer?
Guerin Car Hire offers a diverse range of vehicles, from compact cars perfect for city driving, to spacious SUVs suitable for families or groups, and luxury vehicles for a more stylish travel experience.
What are the working hours of Guerin Car Hire in Lisbon?
Guerin Car Hire operates seven days a week, offering flexibility for vehicle pick-ups and drop-offs according to your schedule.
Conclusion
While Guerin Car Hire in Lisbon is an excellent choice, Lisbon boasts a range of car hire services to meet different needs. For instance, RENTAUTO in Lisbon provides a variety of vehicles for hire, or Movyng Rent a Car in Lisbon is another good option for those seeking affordable rentals. Finally, if you're looking for premium vehicles, Golfauto in Lisbon has a selection of luxury cars to choose from. These services, along with Guerin Car Hire, ensure that you can find the perfect rental for your Lisbon trip.