More About Hertz Car Hire in Lisbon
Looking for a reliable and affordable car hire service in Lisbon? Hertz Car Hire, conveniently located at Lisbon Airport, offers an extensive fleet of vehicles to suit all your travel needs, from economy cars for the budget traveler to luxury vehicles for those seeking a touch of comfort and style.
Location and Working Hours
Hertz Car Hire at Lisbon Airport is a breeze to find, being situated right in the arrivals hall. Open daily from early morning till late at night, Hertz ensures that no matter when your flight lands, their efficient customer service team is ready to assist you.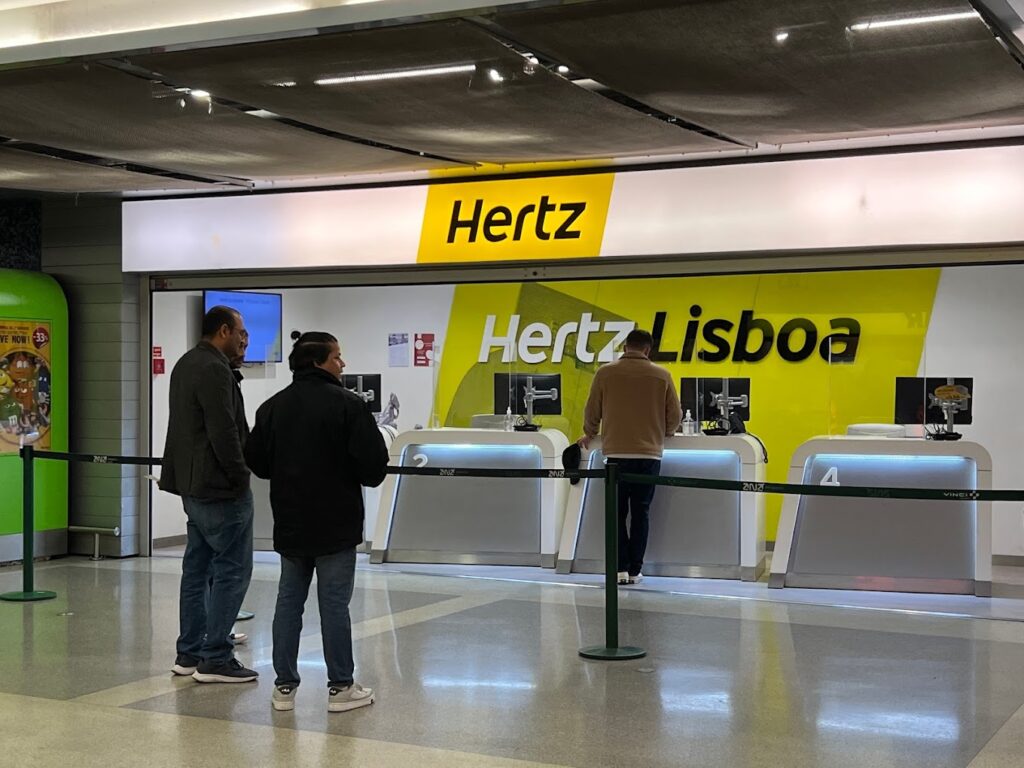 Vehicles and Pricing
When it comes to choosing a vehicle that matches your needs, Hertz offers an impressive range. The fleet includes compact cars, ideal for solo travelers or couples, and larger vehicles, perfect for families or groups. For those who want to ride in style, Hertz's Premium and Luxury range offer an array of high-end vehicles.
In terms of pricing, Hertz offers competitive rates with the added advantage of various discounts and deals throughout the year. They believe in transparent pricing, meaning there are no hidden charges, giving you peace of mind when you're on the move.
Customer Service
At Hertz, customer service is not an afterthought, but a core business value. Their friendly and knowledgeable team is always on hand to assist you, ensuring that your car hire process is smooth and stress-free from start to finish.
In addition to their excellent in-person service, Hertz also offers easy online booking and a helpline, making it convenient for you to rent a car wherever you are and whenever you need it.
Hertz Car Rental Services at Lisbon Airport: Unleash the Freedom to Explore
Hertz car rental services at Lisbon Airport are always available to assist with your car hire needs. Alternatively, you can also reach them by phone on tel +351 21 942 6300. Their service desk operates from 7.00 am to midnight every day, ready to cater to your travel needs.
Situated in the arrivals terminal, Hertz car rental offers an expansive range of vehicles and excellent customer service, making it a top choice among the many car hire companies at Lisbon Airport.
When in Lisbon, a drive to the Santarém district in Ourem County is a must for any visitor. Located in the heart of the Natural Park of Serra de Aire and Candeeiros, one of Portugal's most unusual and rarest tourist attractions await: the Natural Monument of the Dinosaur Footprints. These well-preserved imprints dating back to the Jurassic period, left by the colossal Sauropoda Dinosaurs, provide a fascinating glimpse into prehistoric times.
Hertz provides a wide array of vehicles to accommodate your travel needs. Starting with small cars like the Peugeot 107, which seats up to four passengers and offers ample boot space for a large and two smaller pieces of luggage. All Hertz rentals come with unlimited kilometers and inclusive charges for taxes, VAT, theft protection, road tax fee, and collision damage waiver.
Hertz Lisbon Airport also offers a popular Economy range of cars including models such as the Citroen C3, Volkswagen Polo, and Ford Fiesta. Their Compact range, with options like the Volkswagen Golf TDI, Kia Cee'd, and Ford Focus, provides a bit more room and comfort. These cars can seat up to five passengers and offer boot space for one large and two small suitcases.
For larger groups or families, Hertz also offers Intermediate range vehicles such as the Ford C-Max Grand and the Volkswagen Sharan, a comfortable people carrier that seats seven passengers. Business travelers, on the other hand, might prefer the Standard range Opel Insignia, which can be delivered as either a 4 or 5-door model and features air conditioning and manual transmission.
No visit to Lisbon would be complete without driving to the charming historic town of Obidos in the Oeste Subregion in the Estremadura province of Portugal. Enclosed within the fortified walls of Obidos Castle, this medieval town features a picturesque mix of whitewashed houses, red roofs, and leafy squares. During the summer, the town comes alive with a medieval market, offering a delightful mix of food, drinks, and handicrafts, making it a must-visit destination when in Portugal.
Frequently Asked Questions
What types of vehicles does Hertz Car Hire in Lisbon offer?
Hertz Car Hire in Lisbon offers a wide variety of vehicles, from compact and economy cars to luxury vehicles and larger vehicles suitable for families or groups.
How can I contact Hertz Car Hire in Lisbon?
Hertz Car Hire in Lisbon can be reached through their online booking platform, by phone, or in person at their desk located in the arrivals hall of Lisbon Airport.
How does the pricing at Hertz Car Hire in Lisbon compare to other car hire services?
Hertz Car Hire offers competitive pricing with various discounts and deals throughout the year. They also provide transparent pricing with no hidden fees.
Conclusion
Whether you are in Lisbon for a leisurely holiday or a quick business trip, Hertz Car Hire promises a seamless rental experience that fits your budget and exceeds your expectations.
To compare Hertz's services with other car hire companies in Lisbon, consider checking out our reviews on Avis in Lisbon, Centauro in Lisbon, and Routes Car & Truck Rentals in Lisbon. With all this information at your fingertips, finding the best car hire service in Lisbon is just a few clicks away.