More About SIXT Car Hire in Vilamoura
Renowned as a leading international car rental brand, SIXT has made its remarkable presence felt in the coastal Algarvian town of Vilamoura. For travelers keen on exploring the sun-kissed beaches, world-class golf courses, and the bustling marina, SIXT Car Hire offers a seamless solution to all your transportation needs.
Location
Conveniently located a short drive from the heart of Vilamoura, SIXT Car Hire promises an efficient start to your journey. With its prime location, the branch serves as an ideal pick-up and drop-off point, ensuring you spend more time enjoying the attractions and less time commuting.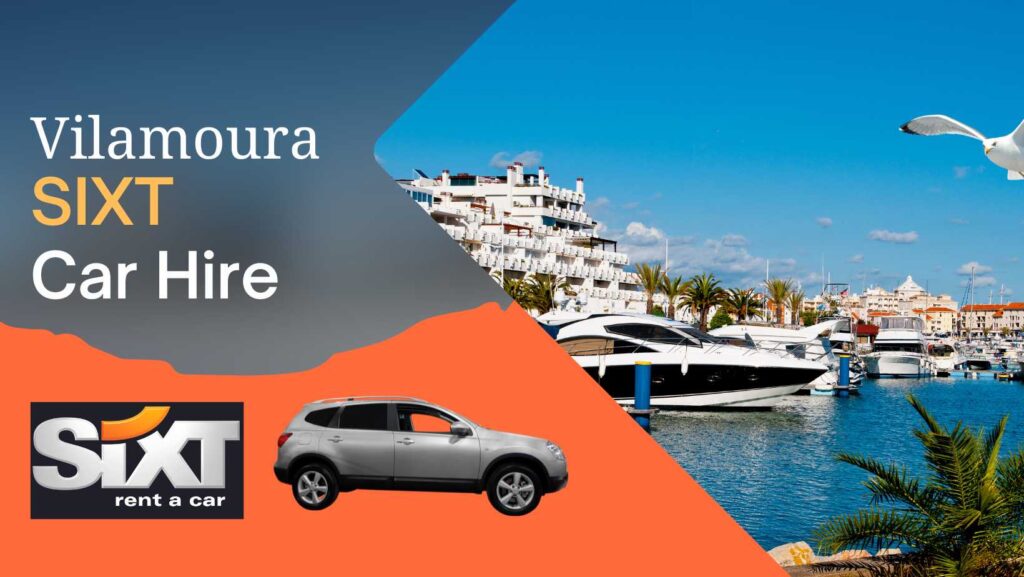 Vehicles
SIXT Car Hire in Vilamoura boasts a fleet that is both diverse and modern. Catering to a range of preferences and budgets, you'll find:
Compact cars for solo travelers or couples.
Spacious SUVs suitable for families or groups.
Luxury sedans for those keen on traveling in style.
Convertibles, allowing you to enjoy the coastal breeze.
Customer Service
With a reputation for stellar customer service, SIXT's dedicated team in Vilamoura ensures that every customer feels valued. Whether you need recommendations on local attractions, or assistance with your vehicle, the staff is always eager to help. If you've previously rented from brands like Europcar or Enterprise, you'll find SIXT's service on par, if not superior.
Pricing
Travelers on the hunt for cheap car rentals will be pleasantly surprised by SIXT's competitive pricing in Vilamoura. Offering various deals and packages, they ensure quality transportation doesn't have to break the bank. Remember, early bookings and longer rental periods often fetch the best rates!
Working Hours
Understanding the varied schedules of travelers, SIXT Car Hire in Vilamoura operates with extended working hours. While exact timings may vary depending on the season, generally, the branch operates:
Weekdays: 8:00 AM – 8:00 PM
Weekends: 9:00 AM – 6:00 PM
For specific date inquiries, it's always best to contact the branch directly or check online.
Top Tips for SIXT Car Hire in Vilamoura
Uncover the beauty and charm of Vilamoura with the convenience of SIXT Car Hire. Venture out to experience golden sandy beaches, the allure of renowned golf landscapes, and delve deep into history at museums like the Cerro da Vila. Having your own vehicle also lets you explore the vast wonders of the Algarve region. Discover traditional fishing villages as you cruise along the coastline or find solitude in scenic hiking trails nestled in the hills. Notably, the captivating city of Faro is just a brisk 30-minute drive away, and you can immerse yourself in the historic ambiance of Lagos old town within 55 minutes.
SIXT's car hire branch in Vilamoura ensures a smooth ride right from the moment you land at Faro Airport, approximately 16 miles from the heart of Vilamoura. Esteemed car rental brands, including the likes of Europcar, Hertz, and of course, SIXT, await you in the main airport terminal. Upon exiting, a short drive via the IC4 and N125 routes leads you straight to Vilamoura, typically taking no more than half an hour.
Vilamoura, a gem of the summer season, often buzzes with excitement and activity. As you drive, especially around the harbor, always be alert for pedestrians. Though roads in Vilamoura boast modernity and maintenance, first-time visitors might find the inclusion of a sat-nav beneficial. And remember, Portugal follows the right-hand driving system; it's particularly vital to be attentive while navigating roundabouts.
Even in a popular resort town like Vilamoura, the usual hustle and bustle of rush hours are rather uncommon. However, anticipate lively streets populated with tourists and locals alike throughout the day. While main roads such as IC4 and N125 can get busy due to airport traffic, driving across the Algarve remains a pleasurable experience. Given the warm Algarve climate, it's wise to always have water stocked up in your car.
To make the most of your Vilamoura experience with SIXT Car Hire, consider these tips:
Booking Advantage: Secure your SIXT car hire at least a day in advance to benefit from attractive rates.
Economical Choices: Opting for economy cars at SIXT's Vilamoura branch can offer savings, with these vehicles being approximately 69% more affordable compared to other categories on average.
Frequently Asked Questions
Where exactly is the SIXT Car Hire located in Vilamoura?
The SIXT Car Hire branch is situated a short drive from the heart of Vilamoura, offering easy accessibility for travelers.
Does SIXT Car Hire in Vilamoura offer any special deals or discounts for extended rental periods?
Yes, SIXT often provides special offers for early bookings and longer rental durations. It's recommended to contact the branch directly or check online for the latest deals.
How does the customer service at SIXT Vilamoura compare to other car rental brands in the area?
SIXT has built a reputation for top-tier customer service. While many travelers have had positive experiences with other brands like Europcar and Enterprise, SIXT's dedicated team in Vilamoura ensures each customer receives personalized and efficient service.
Conclusion
In conclusion, if Vilamoura is your next travel destination and you're seeking a reliable car rental service, SIXT Car Hire stands out as a top choice. With a vast range of vehicles, commendable customer service, and affordable rates, your journey in the Algarve region promises to be smooth and memorable.