More about SIXT Car Hire in Lisbon
When it comes to finding a quality car rental in Lisbon, SIXT offers a range of vehicles to suit all types of travelers, from budget-conscious tourists to business professionals. As a leading car hire provider, SIXT is renowned for their diverse fleet, excellent customer service, competitive pricing, and convenient working hours.
Location
SIXT's Lisbon branch is conveniently located in the heart of the city, offering easy access to both the city center and the wider region. The proximity of the location makes it a great starting point for your Lisbon adventure.
Vehicle Selection
SIXT's diverse fleet of vehicles caters to a wide range of needs and budgets. Whether you're looking for a compact car for city travel, a luxury vehicle for a business trip, or an SUV for a family vacation, you'll find what you're looking for with SIXT. All cars are modern, well-maintained, and come equipped with a range of features for your comfort and convenience.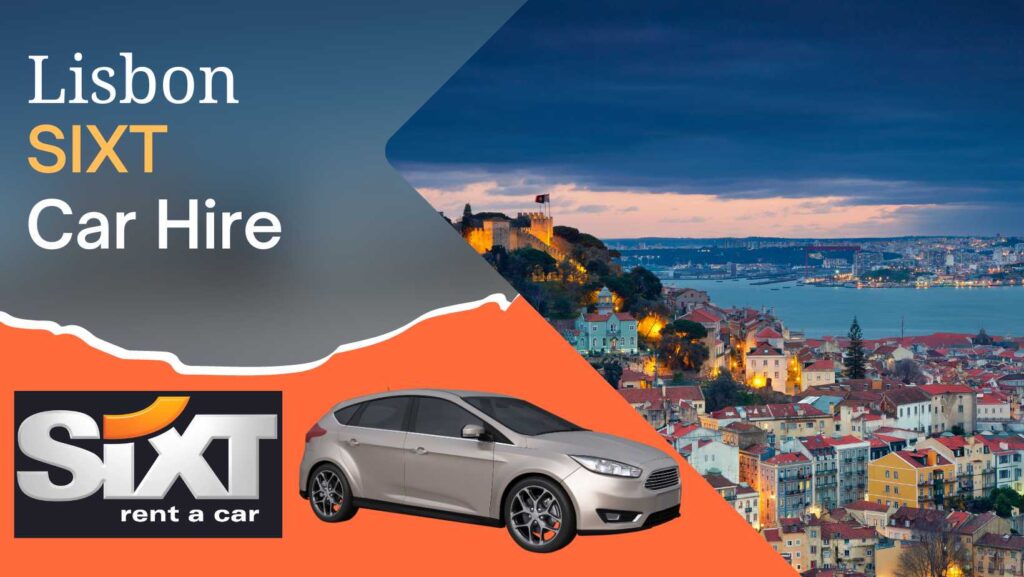 Customer Service
When you choose SIXT, you're not just getting a car – you're also getting top-tier customer service. Their team is dedicated to making your rental experience as smooth and enjoyable as possible, from the moment you pick up your vehicle to the moment you return it.
Pricing
SIXT's competitive pricing structure means you can get a great deal on your car hire. They offer a range of pricing options to suit all budgets, so whether you're looking for a cheap car hire for a quick city break or a luxury vehicle for a longer stay, you can find a deal that works for you.
Working Hours
To accommodate your travel plans, SIXT offers flexible working hours. This means you can pick up and return your vehicle at a time that suits you, giving you more freedom to enjoy your trip.
SIXT Car Hire Services in Lisbon
Travelers exploring the vibrant city of Lisbon, Portugal, can enjoy the convenience and luxury offered by SIXT Car Hire. When you touch down at Lisbon Airport (LIS), ensure you retrieve all your luggage from the baggage claim area before proceeding to the car rental zone. Once you exit the arrivals area, make a right turn and follow the signage for Rent-a-Car. On the left side of this area, you'll find the SIXT counter ready to cater to your needs.
Essential Information When Hiring a SIXT Vehicle in Lisbon
In Portugal, you must be at least 19 years old and have held your driver's license for a minimum of one year to rent a SIXT vehicle. However, age limits and driver's license requirements may vary depending on the vehicle category.
SIXT accepts valid driver's licenses from all EU countries. If your license isn't from an EU country, it should either be written in the Roman alphabet or supplemented with an International Driving Permit. If your home country is not part of the international driving license treaty, an official translation of your license into Portuguese should accompany the original. If you've been in Europe for more than six months, an EU driving license is necessary.
Returning Your Hired SIXT Vehicle in Lisbon
When it's time to return your vehicle, follow the instructions provided by SIXT. Please don't forget to gather all your personal belongings before returning the vehicle. By partnering with SIXT, we aim to make your Lisbon journey as smooth and enjoyable as possible.
Frequently Asked Questions
Where is the SIXT car hire located in Lisbon?
The SIXT car hire branch is located in the heart of Lisbon, making it an easily accessible option for both city center explorations and broader regional travels.
What type of vehicles does SIXT offer for rent in Lisbon?
SIXT offers a diverse fleet of vehicles in Lisbon to cater to various needs and budgets. This includes everything from compact cars for city travel, luxury vehicles for business trips, to SUVs suitable for family vacations
How does SIXT's pricing and working hours compare to other car hire services in Lisbon?
SIXT offers competitive pricing suitable for all budgets, whether you're seeking a budget-friendly option or a high-end vehicle. Their flexible working hours allow customers to pick up and return vehicles at a time that suits their schedule, providing added convenience for their travel plans.
Conclusion
When you're ready to explore beyond Lisbon, consider a car rental from Global Rent a Car or enjoy a smooth ride with Europcar. For those looking for a different driving experience, Carwiz offers a range of unique and exciting vehicles. No matter your choice, you're sure to have a memorable journey exploring the beautiful city of Lisbon and beyond.