Driving in Albufeira can be a delightful experience, with scenic coastal routes and charming towns to explore. To make the most of your journey, it's crucial to know the local rules and follow some essential tips. This guide will help you navigate Albufeira's roads confidently and safely.
More About Albufeira Driving Guide
Rules of the Road in Albufeira
Drive on the right side: In Albufeira and throughout Portugal, always drive on the right side of the road.
Speed limits: Speed limits vary depending on the type of road. Urban areas have a speed limit of 50 km/h (31 mph), rural roads 90 km/h (56 mph), and highways 120 km/h (75 mph). Always follow the posted speed limit signs.
Seat belts: Seat belts are mandatory for all passengers, both in the front and back seats.
Child safety: Children under 12 years old must be seated in appropriate child safety seats.
Alcohol limit: The legal blood alcohol content (BAC) limit is 0.05%. Driving under the influence of alcohol is strictly prohibited.
Tips for Driving in Albufeira
Renting a car: To explore Albufeira and its surroundings, consider cheap car hire in Faro or car rental in Albufeira for a comfortable and convenient experience.
Car hire insurance: Make sure you have the necessary car hire insurance to protect yourself from potential accidents or theft while driving in Albufeira.
Parking: Free and paid parking spots are available in Albufeira. Always park in designated areas and avoid parking in prohibited zones.
Roundabouts: Albufeira has several roundabouts. Give way to vehicles already in the roundabout and use your turn signals when exiting.
Toll roads: Some highways in Portugal require a toll payment. Keep change handy or use an electronic toll device if available in your rental car.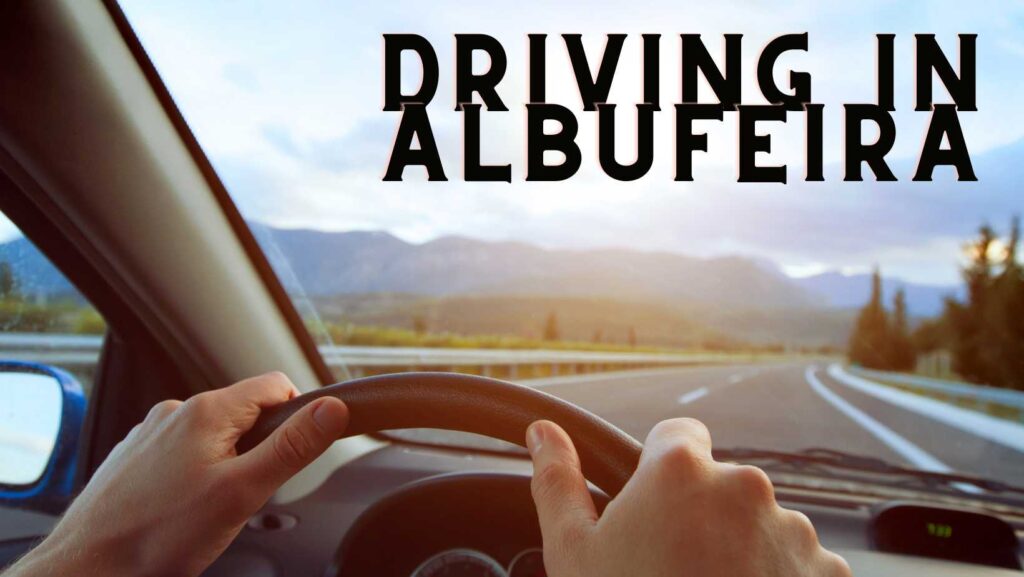 Exploring Albufeira and Beyond by Car: Discovering the Algarve Region
The Algarve region, with Albufeira at its heart, is a treasure trove of beautiful landscapes, stunning beaches, and picturesque towns. Renting a car allows you to explore this captivating region at your leisure, giving you the freedom to discover hidden gems and make unforgettable memories.
Albufeira's Beaches and Attractions
Albufeira is famous for its golden sandy beaches, crystal-clear waters, and vibrant nightlife. Some of the top beaches in the area include:
Praia da Oura: A popular beach with a lively atmosphere, perfect for sunbathing and watersports.
Praia dos Pescadores: A central beach in Albufeira, offering a mix of relaxation and entertainment, with numerous bars and restaurants nearby.
Praia da Galé: A quieter beach west of Albufeira, ideal for those seeking a more peaceful environment.
Apart from beaches, Albufeira also boasts a charming old town with narrow cobblestone streets, whitewashed buildings, and lively squares filled with cafes, restaurants, and shops.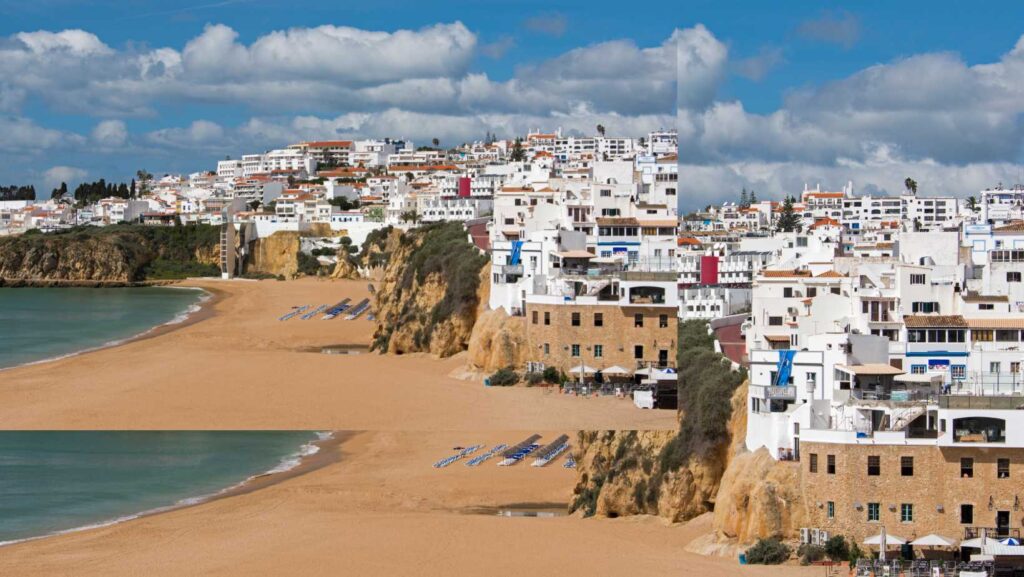 Coastal Drives and Scenic Routes
Renting a car in Albufeira enables you to embark on scenic drives along the Algarve's breathtaking coastline. Some recommended routes include:
Albufeira to Lagos: Drive west from Albufeira to Lagos, stopping at picturesque towns like Carvoeiro, Ferragudo, and Portimão. In Lagos, visit the historic center and marvel at the stunning rock formations of Ponta da Piedade.
Albufeira to Faro: Head east from Albufeira towards Faro, the capital of the Algarve. Along the way, stop at charming towns like Vilamoura, Quarteira, and Olhão. In Faro, explore the old town, marina, and Ria Formosa Natural Park.
Albufeira to Monchique: For a change of scenery, drive inland towards the lush, green mountains of Monchique. Visit the town of Silves, with its historic castle, and soak in the panoramic views from Foia, the highest point in the Algarve.
Day Trips to Nearby Towns and Attractions
With a car rental in Albufeira, you can also venture further afield to explore the following nearby attractions:
Sagres: Visit the southwesternmost point of Portugal and explore the dramatic cliffs, stunning beaches, and historic Fortaleza de Sagres.
Tavira: Discover this picturesque town on the eastern Algarve, featuring a beautiful castle, Roman bridge, and traditional architecture.
Ria Formosa Natural Park: Explore this unique coastal lagoon system, home to a diverse array of flora and fauna. Enjoy birdwatching, hiking, or take a boat trip to explore the park's islands.
Frequently Asked Questions
What are the basic driving rules in Albufeira?
In Albufeira, you must drive on the right side of the road, overtake on the left, and give priority to vehicles coming from the right at intersections. Seatbelts are mandatory, and using a mobile phone while driving is prohibited.
Do I need an International Driving Permit (IDP) to drive in Albufeira?
If your driver's license is issued in an EU or EEA country, you can drive in Albufeira without an IDP. However, if your license is from a non-EU/EEA country, it's recommended to obtain an IDP for a hassle-free driving experience.
Are there any specific speed limits in Albufeira and the Algarve region?
Yes, speed limits in Albufeira and the Algarve are as follows: 50 km/h (31 mph) in urban areas, 90 km/h (56 mph) on secondary roads, 120 km/h (75 mph) on highways, and 100 km/h (62 mph) on expressways.
What should I be aware of when parking in Albufeira?
In Albufeira, you'll find both free and paid parking zones. Pay attention to signage and local regulations. Avoid parking in restricted areas or in front of entrances, as your car may be towed or fined.
Is it easy to find petrol stations in Albufeira and the surrounding areas?
Yes, petrol stations are readily available in Albufeira and throughout the Algarve region. However, it's a good idea to keep your fuel tank at least half full when driving in rural areas, as petrol stations may be less frequent.
In Conclusion
With proper preparation and a good understanding of the rules and tips, driving in Albufeira can be an enjoyable and safe experience. Make sure to rent a car from a reputable car rental service and explore the beauty of the Algarve region at your own pace.