Planning a family trip to Faro and need to sort out the transportation? Look no further. Family car hire Faro is the perfect solution for your needs. Offering a range of spacious and comfortable vehicles, this service ensures your entire family can explore Faro and its stunning surroundings in complete comfort and style.
All You Need To Know About Family Car Hire in Faro
Why Choose Family Car Hire in Faro?
While public transportation is an option in Faro, having your vehicle gives you the freedom to explore at your own pace. With family car hire Faro, you can choose from a wide variety of vehicles to accommodate your family, from spacious sedans to comfortable SUVs.
Moreover, opting for a car hire allows you to make the most of your time in Faro. Visit the best Portugal resorts for families, or take in some of the city's top attractions like the Ria Formosa lagoon or Faro Cathedral.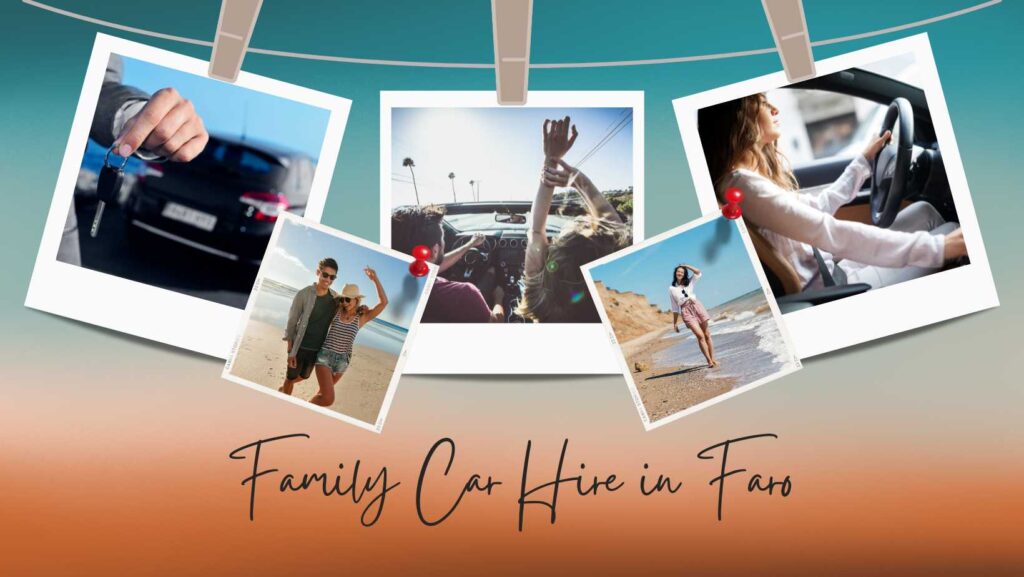 What to Consider When Hiring a Car in Faro?
There are a few things you should consider when choosing a family car hire in Faro. The size of the vehicle is, of course, essential. You want to ensure there's enough room for everyone to travel comfortably, as well as space for any luggage you might have.
Additionally, you should also consider the cost. While there are several cheap car hire options available, it's essential to ensure that the vehicle meets your needs and that the company has a good reputation. Be sure to read the car hire insurance Faro policies thoroughly to understand what is covered.
Vehicles which are the best suited for Family-Friendly Car Hire in Faro
When planning a family trip to Faro, Portugal, choosing the right car for your needs is essential. The vehicle should be spacious, comfortable, and safe for the whole family. Here are some of the best-suited vehicles for a family-friendly car hire in Faro:
SUVs: Sport Utility Vehicles, or SUVs, are perfect for families due to their roomy interiors and ample luggage space. Some popular SUV models for car hire include the Nissan Qashqai, Renault Kadjar, and the Peugeot 3008. These vehicles can comfortably accommodate up to 5 passengers and have plenty of room for suitcases.
MPVs (Multi-Purpose Vehicles): Also known as minivans in some countries, MPVs offer a large seating capacity and are ideal for bigger families or groups. Models such as the Volkswagen Touran, Ford Galaxy or the Peugeot 5008 can seat up to 7 passengers comfortably.
Station Wagons/Estates: These cars offer a good balance between passenger capacity and luggage space. They are ideal for families with a lot of luggage or for those planning to take longer road trips. The Skoda Octavia Estate and the Volkswagen Passat Estate are good examples.
Compact Cars: If your family is small (2 adults and 2 children) and you're planning mostly city driving, a compact car like the Volkswagen Golf or the Ford Focus could be a good option. These cars are easier to maneuver and park in busy city streets.
Remember, the best vehicle for your family will depend on the size of your family, the amount of luggage you'll be carrying, and the type of driving you plan to do. Also, don't forget to consider the car hire company's terms and conditions, especially regarding child car seats, additional drivers, and insurance coverage.
Exploring Faro and Beyond
With your family car hire faro sorted, the city and its beautiful surroundings are yours to explore. Whether you want to spend your days lounging on one of Faro's beautiful beaches, take a boat tour around the Ria Formosa lagoon, or head out on a day trip to nearby towns like Vilamoura, you have the flexibility to do it all.
If you plan to venture beyond Faro, consider our driving in Faro tips to familiarize yourself with the local driving laws and conditions.
Top Family-Friendly Attractions in Faro
Faro has plenty to offer families, with a mix of cultural, historical, and outdoor attractions. Take the children to the Faro Maritime Museum to learn about the city's seafaring history, or head to the Adventure Park for a day of fun-filled activities. You can check out some other great Faro attractions by car.
Moreover, Faro's central location in the Algarve makes it an excellent base for exploring the region. Take advantage of your family car hire in Faro and embark on a memorable road trip.
Frequently Asked Questions
What types of vehicles are available for family car hire in Faro?
There are various types of vehicles available for family car hire in Faro, including spacious sedans, comfortable SUVs, and larger minivans. The choice will depend on the size of your family and your specific needs.
Is it better to hire a car in Faro or rely on public transportation?
Hiring a car provides more flexibility and convenience, especially for families. It allows you to explore Faro and its surroundings at your own pace, without being dependent on public transport schedules.
What should I consider when choosing a family car hire in Faro?
Key factors to consider include the size of the vehicle, cost, and the reputation of the car hire company. It's also important to understand the insurance coverage provided.
Can I use the hired car to travel outside Faro?
Yes, you can use your hired car to travel outside Faro. This gives you the freedom to explore other towns in the Algarve region or even venture further afield.
What are some family-friendly attractions we can visit in Faro with our hired car?
Faro offers a mix of cultural, historical, and outdoor attractions suitable for families. These include the Faro Maritime Museum, the Adventure Park, and the Ria Formosa lagoon. Hiring a car also allows you to explore nearby towns like Vilamoura.
Conclusion
Whether you're planning a short getaway or an extended family holiday, choosing a family car hire faro ensures a comfortable and convenient travel experience. So pack your bags and start your adventure in Faro today!